Chosen as the RPA solution for industry-leading companies

90%
of the world's top healthcare companies

85%
of the biggest names in technology

85%
of the largest banking and financial services institutions

80%
of telecommunication giants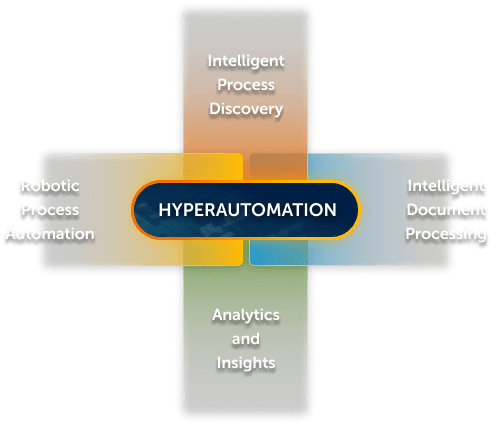 How does hyperautomation work?
According to Gartner, RPA enriched by AI and ML becomes the core enabling technology of hyperautomation. Combining RPA and AI technologies offers the power and flexibility to automate where automation was never possible before: undocumented processes that rely on unstructured data inputs.
What are the benefits of hyperautomation?
Accelerating Complex Work
Hyperautomation engages everyone in transforming the business, supported by automating more and more complex work that relies on knowledge input from people.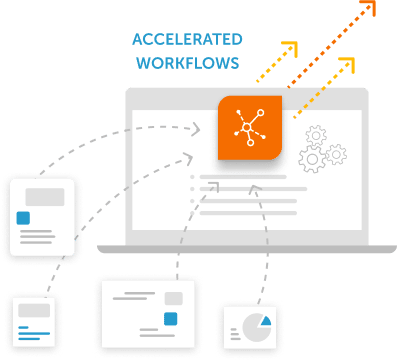 Deploying Digital Workers
Upskilling RPA with intelligence creates an intelligent Digital Workforce able to connect to various applications, operate with structured and unstructured data, analyze data and make decisions, and discover new automation opportunities.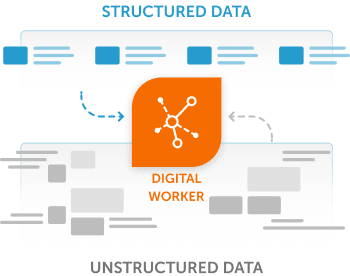 The Power of Artificial Intelligence (AI)
AI is what differentiates Digital Workers from standard automation approaches—making RPA+AI the essential ingredients of hyperautomation.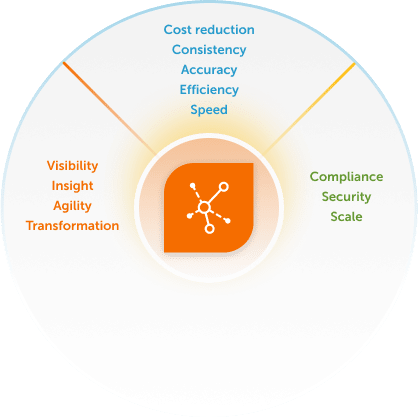 A Magic Quadrant Leader for RPA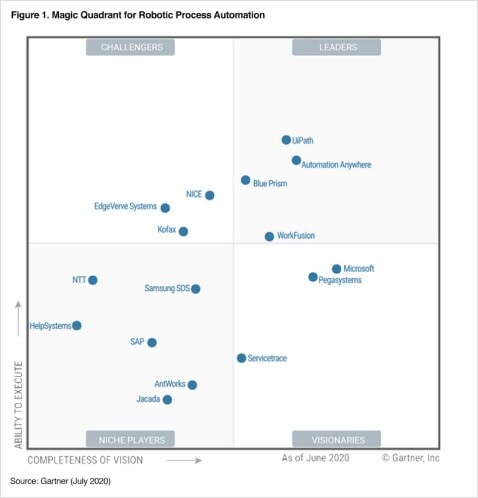 Positioned furthest for completeness of vision in the leader's quadrant
In the Gartner 2020 Magic Quadrant for Robotic Process Automation (RPA), you'll find:
What makes Automation Anywhere a Magic Quadrant Leader for RPA
Current trends in the RPA market
Considerations when investing in a new RPA solution
Where can hyperautomation be applied?
Customer Service

Hyperautomation uses NLP to understand customer intentions and extract necessary information, using NLG to summarize the knowledge base, and RPA to perform tasks faster, more efficiently, and more reliably.
Healthcare

Let hyperautomation gather information about a patient and schedule an appointment that not only fits the clinic's schedule, but also the patient's.
Manufacturing

Hyperautomation provides efficient ways to read original equipment manufacturers (OEMs) invoices – sometimes up to tens of thousands of them – and make on-time payments.
Don't just take our word for it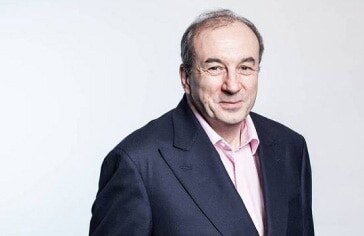 MEET OUR CUSTOMERS
SPRINT
RPA is one of the key tools we have in our toolkit which enables broader digitization of our internal processes.
– Andrew Davies, CFO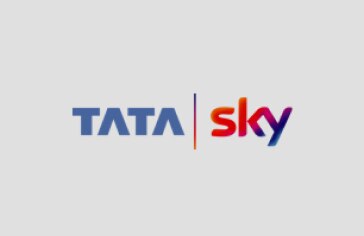 MEET OUR CUSTOMERS
TATA SKY
RPA brought speed to our operations. The complex processes in treasury and tax are now more accurate and efficient.
– Vikas Kapoor, Senior Vice President, Finance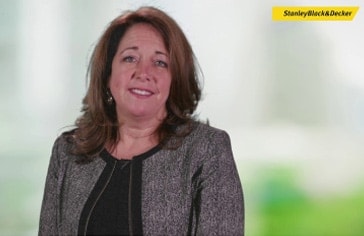 MEET OUR CUSTOMERS
STANLEY BLACK AND DECKER
Our corporate goal is to reach $22 billion of revenue by the year 2022. The only way to scale that much is to do things better. Automation is allowing us to do that.
– Cynthia Holmecki, Global Leader Intelligent Automation Solutions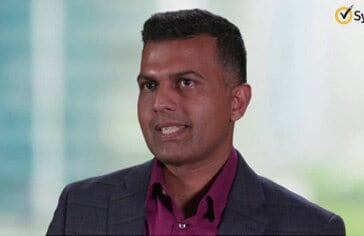 MEET OUR CUSTOMERS
SYMANTEC
It just took 3 weeks for small and medium-sized processes to be automated. The heaviest processes took only 9 weeks. The results were delivered fast, giving us the opportunity to assess the fast pace.
– Ravi Konda, Sr. Manager, IT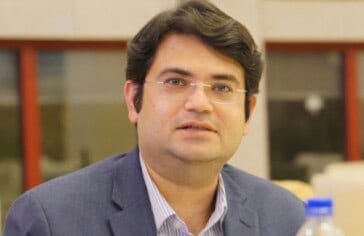 MEET OUR CUSTOMERS
ELI LILLY
Combining RPA with cognitive automation and analytics gives us the foundation to transform how we serve customers.
– Richard Mendoza, Automation Capabilities Leader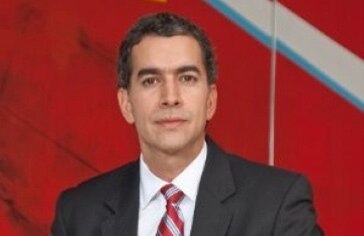 MEET OUR CUSTOMERS
BANCOLOMBIA
Bank leadership is excited because we recovered our investment with a 1300% ROI within the first year.
– Jorge Ivan Otalvaro, VP Service Delivery and Operations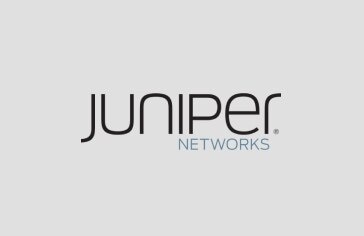 MEET OUR CUSTOMERS
JUNIPER
With the implementation of RPA for our billing portal, we've increased our efficiency and production, decreased processing costs, and scaled for the future.
– Kevin Tucceri, Business Process Owner, Credit & Collections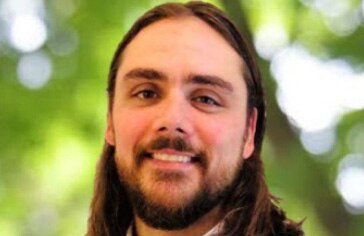 MEET OUR CUSTOMERS
DELL
Once we got a few groups on board with RPA, that was really a game changer for us. People started to see the results and the excitement was contagious.
– Joe Cotnoir, Director HRIS—Business Process Enablement, HR Services









Sign up to get quick access to a full product demo