Chosen as the RPA solution for industry-leading companies

90%
of the world's top healthcare companies

85%
of the biggest names in technology

85%
of the largest banking and financial services institutions

80%
of telecommunication giants
Automate your complex back-office processes with Intelligent Automation
A Digital Workforce can eliminate the high costs for labor, errors, and re-work—with a direct positive impact on metrics, such as customer SLAs and cash flow.
RPA is ready to automate across all back-office functions and systems
Streamline processes and improve cashflow
Close to 70% of Finance processes are ready to be automated (McKinsey). Apply RPA to accounts payable, accounts receivables, financial planning and analysis, record to report, and more.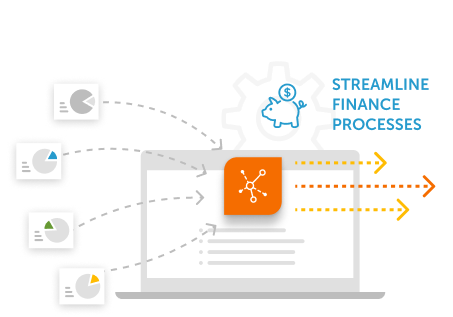 Scale capacity—fast
Automate IT processes such as asset management and tracking, cybersecurity and alerts, end user support, and IT Ops to create capacity, maximize efficiency across systems, and enable 24x7 continuity.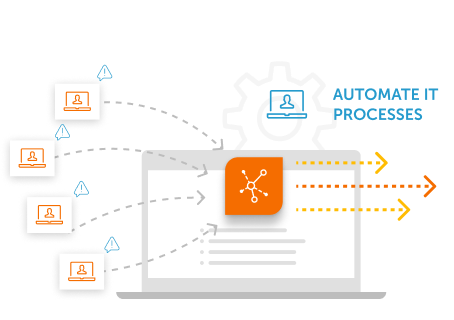 Enable focus on talent and culture
Empower HR with a Digital Workforce to take on the tremendous volumes of candidate and employee data. Apply RPA to recruiting, onboarding, payroll and expense management, and employee data.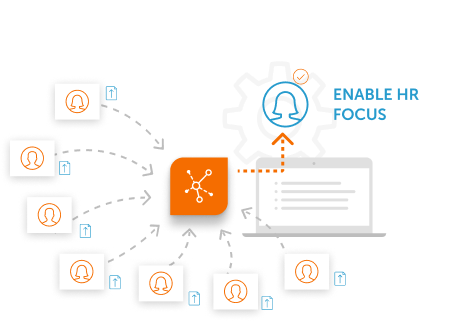 Improve SLAs and create efficiencies
Automate labor-intensive processes such as expense management, payroll management, accounts payable, call center/service desk, and more, to achieve cost and time synergies and improved control.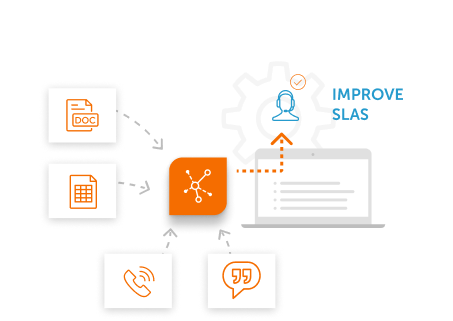 A Magic Quadrant Leader for RPA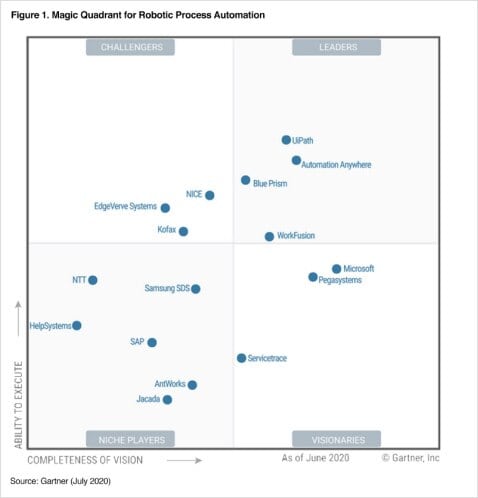 Positioned furthest for completeness of vision in the leader's quadrant
In the Gartner 2020 Magic Quadrant for Robotic Process Automation (RPA), you'll find:
What makes Automation Anywhere a Magic Quadrant Leader for RPA
Current trends in the RPA market
Considerations when investing in a new RPA solution
A RPA Leader and Star Performer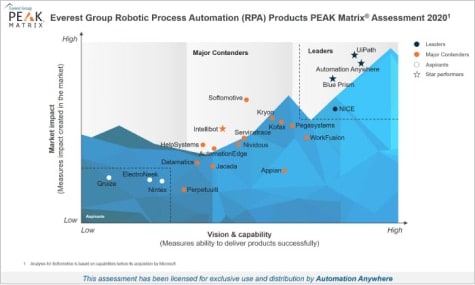 Automation Anywhere recognized as a leader for the 4th consecutive year
In the Everest Group Robotic Process Automation Products PEAK Matrix® Assessment 2020 you'll find:
RPA competitive landscape and PEAK Matrix® Assessment
What makes Automation Anywhere a consistent RPA Leader and Star Performer
Forecasted impact on enterprises' ability to successfully adopt RPA
Across industries. Diverse use cases. One integrated solution.

Insurance


Banking


Healthcare


Manufacturing


Public Sector


Life Sciences
Sign up to get quick access to a full product demo