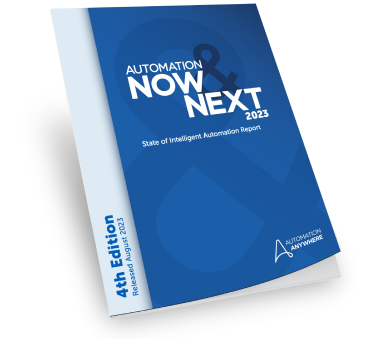 Learn how automation leaders are embracing Intelligent Automation and generative AI to increase productivity, drive innovation, and find new growth opportunities.
Get your copy of the report today.
AI-driven business process automation allows us to move people out of roles where the work is very tedious and into roles that are a lot more interesting. As we automate the more tedious part of their work, employee satisfaction survey results are better. Employees are more engaged. They're happier. That we can measure.
CIO, Leading Financial Services Company
Key insights from industry leaders
The Automation Now & Next report is the only survey of business leaders that reflects the global state of Intelligent Automation today. It provides insight unavailable elsewhere, focusing on how enterprises are deploying, using, and planning for Intelligent Automation today and into the future.
Read the report
Preview of findings
78%
of companies say productivity gains are a desired impact of automation.
72%
of companies are investing in AI/ML in the next 12 months.
40%
of companies are already deploying generative AI solutions.